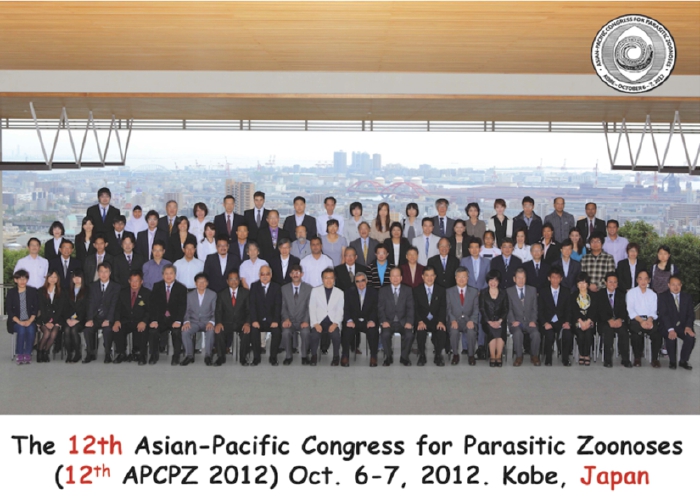 The 12th APCPZ was held on October 6–7, 2012, in Kobe, Japan, with attendees from all over the world: Argentina, Bangladesh, China, Egypt, Indonesia, Iran, Japan, Korea, Malaysia, the Philippines, Taiwan, Thailand, the United States, and Vietnam (see the cover map showing the countries). Although APCPZ members work in various fields—as human and veterinary doctors, clinical and basic researchers, parasitologists and entomologists, researchers and public health officers—all the members share an interest in and passion for parasitic zoonoses. Gathering the fruits of the face-to-face discussions that took place at the 12th APCPZ between those professionals and researchers, the book "Parasitic Zoonoses in Asian-Pacific Regions 2012" was published, which provides a wide variety of interesting insights into the current status of parasitic zoonoses, constituting a valuable record of crosstalk between highly diverse specialties.




Download "Parasitic Zoonoses in Asian-Pacific Regions 2012"
Edited by M. Tokoro & Shoji Uga


About APCPZ


Official name of the Asian Pacific Congress for Parasitic Zoonoses (APCPZ) was given in 1990 when the 1st APCPZ conference was held in Sendai city, Miyagi Prefecture. The president of this memorial conference was Tomio Yamaguchi, emeritus professor at Hirosaki University. Since then, APCPZ has been held every two years, in either Taiwan or Japan. The year 2010, marked the first time the conference was held in a third country—due to the increasing participation of Korean parasitologists, the 11th APCPZ was held in Incheon, Korea. After this time 12th Kobe congress, the next 13th APCPZ (2014) will be held in Taiwan.